Ugratara Temple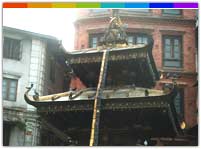 Ugratara Temple, a shakti shrine is regarded with great devotion by Assamese. It is an important temple visited by the devotees throughout the year. It is situated in the Uzan Bazaar in Guwahati. It was constructed by King Siva Singh in the 18th century. There is a tank near the temple which is called 'Jorepukhuri'. The top of the temple was transformed into ruins by an earthquake. Later it was remodelled. According to the Yogini Tantra 'Tara' is same as Kali, the incarnation of supreme love. So is Kamakhya.
Animals such as Birds, Tortoises, Alligators, Fish, nine species of wild animals, Buffaloes, Bulls, he-Goats, Wild Boars, Rhinoceros, Antelopes, Iguanas, Reindeer, Lions, Tigers used to be sacrificed at the temple. Another ritual observed here was the offering of one's own blood. However, female of all animals were spared from sacrifice.
Places of Interest Near Ugratara Temple:
Kamakhya Temple: It is an ancient temple famous as the tantrik shrine of Shakti.
Shiva Temple: Located on a beautiful location on an island, the temple can be reached only by motor boats or ferries.
Navagraha Temple: This temple is dedicated to the nine celestial bodies(Sun (Surya, Ravi), Moon (Chandra, Soma), Mercury (Buddh), Venus (Sukra), Mars (Mangal), Jupiter (Brhaspati) and Saturn (Sani), Rahu and Ketu.