Enquire Now
HomeMeghalayaAttractions Garo Hills in Tura
Garo Hills in Tura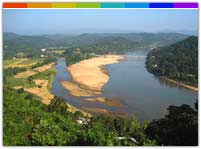 Tura is a mesmerizing district headquarters of the West Garo Hill. Tura boasts of beautiful hills overlooking the mighty river Brahmaputra. Tura town is famous for its Tura peak which rises to an altitude of 872 m above sea level. Tura was originally called Dura, but mispronunciation by the British resulted in the change of the original name. According to the legend this peak is a home to heavenly deities. It has been declared a forest reserve. The peak offers wonderful views of the river Brahmaputra and Bangladesh. Reaching the Tura peak is not at all a hassle as a foot-track is there which was built during the British Raj. This peak is a great place for rock climbing, hiking and for enjoying the beauty of nature.
Garo Hills are famous for a wide variety of flora and fauna. It is truly a paradise for nature lovers. Here you will get a chance to see amazing wildlife and heavenly scenery. Two mountain ranges – the Arabella range and the Tura range pass through the Garo Hills forming the beautiful Balpakram valley.
It is a great destination for capturing the mesmerizing beauty of nature. It serves as an inspiration for photographers from across the world.
For any inquiries call the hotline: +91 987 357 9007