North East India Travel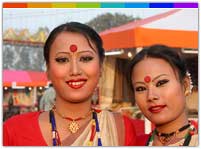 North East India is a mysterious, magical and beautiful region famous for its number of compelling holiday destinations. North Eastern states allure tourists with its wonderful verdant valleys, hilly streams, lush green forests, vast tea gardens, snowcapped mountain peaks, mighty rivers, tribal culture, colorful fairs and festivals.

North-east India is a potpourri of eight states famous for its natural beauty and cultural diversity. The eight jewels that form North East India are Assam, Arunachal Pradesh, Nagaland, Meghalaya, Manipur, Mizoram, Tripura and Sikkim.

From ages globe-trotters have been traveling to North East India to experience the charm of rich biodiversity, treasures of tribal communities and unparalleled scenic beauty of Himalayan Mountain. This region is the treasure trove for tourists of different tastes, whether they are nature lovers or adventure enthusiasts.

The snow laden mountains, rocky cliffs and dense forests of this region make it a perfect place for trekking, mountaineering and camping. The grueling mountain streams make it a best place for river rafting and several other thrilling water sports activities.

Scenic charm of serene nature is the foremost attraction of North East India Tour, which enthralls tourists who come here from across the globe to spend their vacations amidst scenic ambiances.




Assam:
Steeped in legends and greenery, Assam is famous the world over for its high quality tea. It is a land of contrasts offering amazing tourist attractions.




Arunachal Pradesh:
It is the 'land of the rising Sun' dotted with snow-capped mountains and lush green valleys.




Meghalaya:
It is the 'Abode of Clouds'. Its beauty will transport you into a different world altogether.




Nagaland:
The land of rich heritage, Nagaland is a home to several tribes famous for their dance and handicrafts.




Manipur:
Manipur – 'The Jewel of India' boasts of a number of places of tourist interest. Manipuri classical dance should not be missed when you travel to this state.




Mizoram:
Cloaked in aesthetic beauty, Mizoram is a famous tourist destination.




Tripura:
Small but endowed with immense natural beauty. Its handicrafts are beautiful and durable.




Sikkim:

Rich in flora and fauna, Sikkim is a big hit with tourists. Its main attraction is the mighty Kanchanjunga, the world's third highest peak.