Enquire Now
HomeTripuraTemples Tripura Sundari Temple
Tripura Sundari Temple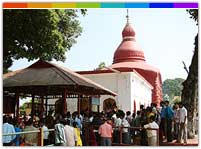 Located in the ancient town Udaipur, Tripura, the Tripura Sundari Temple is an important and one of the 51 Shakti Peethas of Hindus. It is also known as Matabari temple and is raised on the Dhanisagar hillock. The priests of the temple dress in red clothes. Its square sanctum resembles a typical Bengali hut with a conical dome. It was built by Maharaja Dhanya Manikya Debbarma in the 16th century.

The presiding deity of the temple is goddess Kali. The temple houses two identical images of the same deity named Chhotima. One is 2 feet in height and is called 'Chhotima' and the other is 5 feet tall and is called 'Tripura Sundari'. The image of Chhotima is almost in ruins. One can hardly figure out the attributes in her hands. The shape of the temple complex resembles that of a Kurma, meaning tortoise and hence the temple is also known as 'Kurma Pitha'. It also houses an idol of Ma Kali which is made of reddish black Kasti pathar. Another idol of Ma Kali present here is called 'Chotti Maa'. Maharajas of Tripura used to carry this small idol with them on their hunting expedition and also during war.

According to a legend the toe of the right foot of Mata Sati fell exactly at the place where the temple stands today. A grand fair is held at the temple during the festival of Deepawali. Located on the eastern side of the temple is Kalyan Sagar which is full of fishes and tortoise. They enjoy special treatment by the devotees and are fed very well by them.
For any inquiries call the hotline: +91 987 357 9007