Enquire Now
HomeManipurCities Khongjom
Khongjom Manipur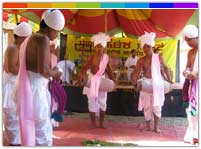 Khongjom is a historic place located on the Indo-Burma Road which is 36 km from Imphal. It holds sheer historic importance. It is the place where Major General Paona Brajabashi showed a great deal of courage and bravery against the strong force of the invading British Army in 1891. Khongjom day is celebrated as a State Holiday every year on April 23. The memorial was erected atop the hillock in the memory of Major Brajabashi.




Khongjom Day:




After the execution of Chief Commissionar and his party, the Manipuris attacked the residency. Mrs. Grimwood, Lt.Gordan with a group of people left Manipur or Cachar. The British Government declared war against Manipur in March 1891. By the first week of April, three columns of troops march towards Imphal from three different direction i.e. Kohima, Silchar and Tamu. Kohima column was commanded by Brigadier General Graham C.B. General Collet was given the overall command of the whole operation. In Manipur, due preparation was made to meet British troops.


The conditions of Manipuri forces in all three fronts were deteriorated. The three British columns marched towards Imphal. The first column to reach Imphal was the Silchar column. On the morning of 27th April (Monday) Col.Rennick's force occupied the capital at 7 a.m. and hoisted the Union Jack over the Capital. Thus, Manipur fell into the hands of British. This defeat of Manipuris led to the loss of independence and marked the integration of Manipur with British India.
For any inquiries call the hotline: +91 987 357 9007