Trekking in Nagaland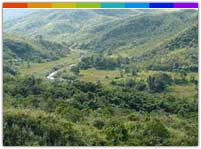 Nagaland is an adventurous destination, so are its trekking routes. It offers remarkable and challenging trekking routes for adventure enthusiasts. The trekking experience at Nagaland is full of adventure and joy as the topography of the state mainly consists of lush green hills and mountains. Trekking is fun but do make sure that you are physically fit before you embark on a trekking expedition.
The main trekking routes in Nagaland are:
Dzukou Valley:
Dzukou Valley is characterized by rich flora and fauna. Its beautiful hills and salubrious climate make it a must-see destination of Nagaland. It is located at an altitude of 2433.4 sq m above sea level near Kohima. Several routes from Kohima connect it to Dzukou Valley. This valley is a home to beautiful streams and rivulets which make it a popular destination. During summer the valley comes alive with a wide variety of flowers such as Lilium, Mackliniae, Caltha palustris, Anemone revelries, Euphorbias.
Mokokchung:
Inhabited by the Ao Nagas, Mokokchung is a wonderful place located at a height of 1325 m above sea level. The Milak and Tzula rivers at Mokokchung provide great opportunity for angling. It is truly a trekker's paradise.
Pungro:
This place provides a wonderful trekking opportunity to Saramati peak, a part of which falls in Myanmar.
Mount Tiyi:
A lot of tourists come here to enjoy trekking. It is situated at an altitude of 1969.61 m above sea level. The cliffs and steep slopes are covered with colourful Rhododendrons which look very beautiful. The peak offers a bird eye view of the surroundings.
Satoi Range:
It is located in the Zunheboto district and is one of the only remaining unspoilt forests of Nagaland. It is steeped in natural beauty which offers a sense of oneness with nature. This place is a home to an endangered bird named Blythe's Tragopan. Trekking and camping are its major attractions.