Orang National Park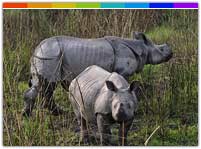 Location: Darang and sonitpur districts of Assam
Main Attraction: Endangered One-horned rhinoceros
Best Time To Visit: November to March

About The Park:
The Orang National Park is popularly known as 'Mini Kaziranga' and is located on the northern bank of the river Brahmaputra. It is endowed with natural scenic beauty that makes the visit of the tourists worthwhile. The southern and eastern boundaries of the Park is dotted with channels and islands of the river Brahmaputra. Sprawling over an area of 78.81 sq km, the Park was founded as a sanctuary in 1985 and declared a National Park in 1999. Elephant safari is the best option to explore the Park. Orange National Park is one of the best National Parks of North East India.

Flora and Fauna:
The Park is blessed with rich flora and fauna. Some of the floral species found here are Bombax ceiba, Litsaea polyantha, Dalbergia sisoo, Sterculia villosa, Trewia nudiflora, Zizypphus jujuba, etc. The notable aquatic plant species are Andropogon spp., Ipomea reptans, Enhydra flushians, Nymphia spp.and Wichornia spp.. And the non aquatic species are Phragmites karka, Arundo donax, Imperata cylindrical, Saccarum spp. etc.
The Park shelters the endangered One -Horned Rhinoceros and other species such as the Royal Bengal Tiger (Panthera tigris), Asiatic elephant, hog deer, wild boar ,civets, leopards, hare and porcupines. The Park boasts of around 50 species of fishes. The Park is also a home to reptiles like python, cobra and turtles.
Another feature of this wonderful Park is its rich variety of avian species. According to the reports of the Bombay Natural History Society(BNHS), Orang National Park is an important natural home of the Bengal Florican(smaller species of bustards) in Assam. Other existing bird species are Spot-billed Pelican (Pelicanus philippensis), Black-necked Stork (Ephippiorhynchus asiaticus), Greater Adjutant Stork (Leptoptilos dubius), Lesser Adjutant (Leptoptilos javanicus), Wooly-necked Stork (Ciconia episcopus), Rudy Shelduck (Tadorna ferruginea), Gadwall (Anas strepera), Mallard (Anas platyrhynchos), Pintail (Anas acuta), Pallas's Fishing Eagle (Haliaeetus leucoryphus)and much more.

Accommodation:
The Orang National Park offers only two rest houses. Tezpur city is another option for accommodation which is located only 32 km from the Park.

How To Reach:
Air: The nearest airport is Tezpur which is connected with the capital city Guwahati. The city in turn is well connected with all the main cities of India.
Rail: The nearest railway station is Saloni(41km) and Rangapara.
Road: Regular bus service from Tezpur connect it with the Park.