Sukresvara Temple Assam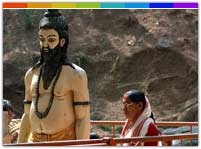 Nestled on a hillock called 'Hasti', the Surkresvara temple is a beautiful temple of Assam. The hillock is said to be the Ashrama (hermitage) of the sage 'Sukra'. According to Kalika Purana Sukresvara Linga was installed here. The temple is located on the bank of the mighty river Brahmaputra in Guwahati.
The Sukresvara Temple was a great contribution of King Pramatta Singh of the Ahom dynasty to Assam. He built it in the 18th century. The temple enshrines one of the largest Lingas(phallic emblems) of Shiva in India. Devotees from far and wide flock to the temple throughout the year. Standing the test of time the temple is still in a good condition but the roof of the Nat Mandir adjacent to it has been replaced with iron sheets.
Places of Tourist Interest Near Sukresvara Temple:

Guwahati Zoo:
It is the largest natural zoo of the country.
Kamakhya Temple, Guwahati:
Dating back to the 10th century, this temple is a famous tantrik shrines of Shakti worship.

Bhubaneshwari Temple, Guwahati:
It is a beautiful temple with amazing surroundings.

Shiva Temple,Guwahati:
This island temple offer great views of its surroundings.

Navagraha Temple, Guwahati:
Dedicated to the nine celestial bodies, the Navagraha temple is a centre of astrology and astronomy research.

Vashistha Ashram:
Once the abode of sage Vashistha, the ashram boasts of three wonderful streams and a golden idol.