Meghalaya Festivals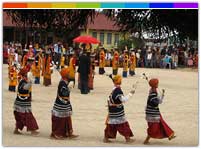 The celebration of life by the people of Meghalaya can be clearly seen in their festivals. Dedicated to different themes, the festivals are celebrated through out the year. The enthusiasm and joy with which the people celebrated their festivals is truly commendable. All the three tribes of Meghalaya celebrate their own festivals with joy. There are numerous festivals but the following are the most important ones:
Nongkrem Dance Festival:
This festival is very close to the hearts of the Khasi tribe. It is a thanks giving festival celebrated for five days. Heavenly beings are thanked for showering their blessings in the form of good harvest, peace and prosperity. The venue for this festival is Smit, the cultural centre of Khasis. It is held in the month of October/November. The inception of the festival is marked by a dance performance by the Syiem(the administrative head of the Khasi region) in front of a wooden pillar called " U Rishot Blei".This ritual is followed by sacrifice of goats and then offerings are made to the deities and to the ancestors. After following these rituals, dance performances are held. Other festivals belonging to the Khasis are Ka Shad Suk Mynsiem, Ka Pom-Blang Nongkrem, Ka-Shad-Shyngwiang-Thangiap, Ka-Shad-Kynjoh Khaskain, Ka Bam Khana Shnong, Umsang Nongkharai and Shad Beh Sier.
Behdienkhlam Festival:
Associated with the socio-economic life of the Jaintias, this festival is greatly loved by them. During the festival the people offer prayers for good health and prosperity. It is celebrated at Jowai in Jaintia hills during monsoon in the month of July. Jowai is a beautiful place located at an altitude of 1220 m above sea level. The ritual of making of the "Dein Khlam", "Symlend" and "Khnong" which are rounded, tall and polished tree trunks is observed during the festival. Dance and music are also a part of this festival.

Wangala Festival:
Wangala is a popular festival of the people of Garo Hills. It is a wonderful thanks giving festival celebrated after the harvest season. The festival has a ritual of sacrifice to Goddess " Misi Saljong" for obtaining blessings for abundance food grains. The dance and music performances by men and women during the festival make it more cheerful. Other festivals of the Garos are Denbilsia, Rongchugala, Mi Amua, Mangona, GrendikBa, Dore Rata Dance and Chambil Mesara.
Shad Suk Mynsiem Festival:
This festival is known as the 'Dance of Contentment' and is celebrated in April every year. It is another thanks giving festival during which people offer prayers for great harvest. It is a three days long festival hosted at the Wecking grounds near Shillong and at other places in Meghalaya. Dance and music are an important attractions of this festival.